PROMINENCE HOMES, INC.

"Builder of the Year"

When Mark Padrutt and Kurt Bauch forged their friendship playing football together in high school and college, they had no idea that someday they would be a "winning team" all on their own. Now celebrating its 10th anniversary as a single-family home builder, Kurt and Mark's company, Prominence Homes, has been named "1998" Builder of the Year" by the Home Builders Association of Greater Akron.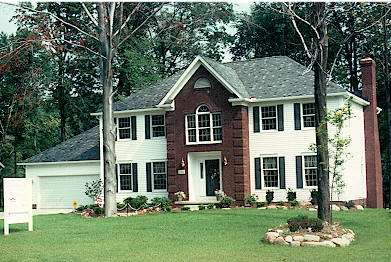 Although receiving this award is a tremendous honor, it is not the first time Prominence Homes has been recognized for the quality of homes it builds. Since Mark and Kurt formed the company in 1989, Prominence Homes has also been involved in several Parade of Homes, winning various honors including "Best of Show". They have also participated in Best Homes competitions, winning first place and other honors. Earning top awards for both events the very first time they entered – in 1994 – was a sign this building company had a promising future. Prominence Homes was previously featured on our Builder/Architect cover when it was a fairly new, up-and-coming company, already making its mark. Over the years, the company has grown and prospered, gaining scores of satisfied customers.
One secret of their success is Mark and Kurt's dedications to customer satisfaction. "One of the most crucial aspects of home building is the planning. We spend a lot of time up front with our customers, planning and designing their home and pricing out all aspects of the project. This eliminates surprises that can be costly if not covered early on in the process," Mark states. "We make sure we cover every detail – faucets, fixtures, appliances, finishes, counter surfaces, etc. – the list is almost endless. It's time consuming, but before this stage is over, we have a good understanding of our customers' needs and desires. We like to focus more on personal contact than on volume."
Adds Kurt, "We are 'hands-on' throughout the entire building process and involved in every aspect from design to completion. In addition to our office number, our customers have our mobile, home and pager numbers – we maintain constant contact with our clients."
Another important factor of Prominence Homes' success is Kurt and Mark's loyalty to their tradesmen. Mark explains, "We work with a highly talented group of people, and have maintained a strong working relationship with many of them since the very beginning. Their quality makes Prominence Homes what it is." Notes Kurt, "Quality is our top priority…even if it costs a little more and may not even show. Things you can't see often make the difference."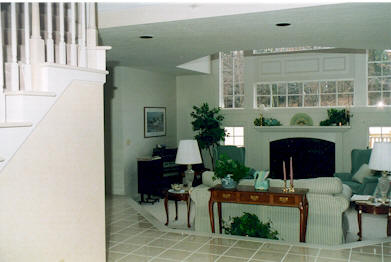 Says Mark, "We have been very fortunate to have had the opportunity to work with so many good people. Our tradesmen, our suppliers and even our customers have been wonderful to work with, and we have built many personal relationships along the way."
Prominence Homes offers stock plans, including a range of colonials, ranch style and one-and-a-half story homes, but always modifies the homes to each customer's specifications. Mark notes, "We also build completely customized homes. We can start with a customer's sketch or work with a plan the client brings to us. Even when we begin with our stock plans, each home is modified to the point that, in 10 years, I don't think we ever built the same exact house twice."
Now based in Rootstown, OH, the company builds 12 to 20 homes per year, at a wide price range, beginning around a very reasonable $135,000. Prominence Homes has built in Stark, Portage, Summit, Wayne and Medina counties. The company usually has several spec homes under way at any given time, as well as occasional model homes.
The building team has a keen interest in innovative building processes, including a basement waterproofing system with an extensive warranty, which Prominence Homes uses in about 95 percent of its homes; geothermal heating, cooling and water heating; and overall home design. Kurt points out, "We are also starting to offer options for the physically impaired, and even trying to incorporate into our plans the versatility to convert homes when and if necessary." By offering larger doorways, lever handles rather than knob-type and handles in tubs and showers, Prominence Homes is always thinking and planning to make life easier for its customers. Mark and Kurt believe it is their responsibility to keep abreast of new products and services.
In a new venture for this team, Mark and Kurt have joined with Terry Moser, a commercial builder, to form their first development company. Clover Pointe Land Development currently has three developments under way in Portage County. "We've thought about getting into developing for a long time and are very excited about it. It's a different ball game, but we're learning – very quickly," says Kurt.
Prominence Homes is a member of the HBA of Greater Akron, and Mark has also served on the HBA Board of Trustees since 1997. The company is also a member of the Western Reserve HBA and the Better Business Bureau.

Mark and Kurt became friends while attending Peninsula Woodridge High School and remained close friends through college. After both graduated from the University of Akron, Kurt left for the U.S. Air Force to pursue his dream of becoming a jet pilot. Mark, with his love of carpentry, joined a remodeling company founded by his uncle. The two teamed up again in 1989 built their first home and Prominence Homes was born.